New Patient Center
Welcome to our office!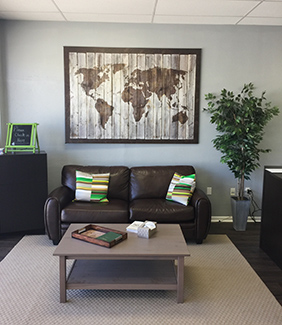 If you're visiting our Montgomery chiropractic care centers for the first time, we'd like you to know exactly what to expect. We want to provide you with an experience where you can see that your health needs will be recognized and honored.
Simple Life Chiropractic has been described as open, friendly, relaxed and inviting — an environment where you can be comfortable being yourself. We feature a children's area, a homelike atmosphere and cheery music.
Your First Visit
We also refer to this visit as Discovery Day because it's all about discovering who you are, what you need and how chiropractic can be of benefit. This appointment takes about 45 minutes. During this visit, Dr. Jeremy will conduct a comprehensive assessment, including
A consultation
Computerized nerve scan studies
A digital posture evaluation
A digital range-of-motion evaluation
Save some time, complete the paperwork before your first visit and bring it along with you:
INTAKE FORMS »

Your Second Visit
This visit is typically scheduled within 24 to 48 hours of your first appointment and will take about 45 minutes. During this time, Dr. Jeremy will review the results your exam and computerized scan findings to help you understand the source of your problem and if we can help or not. If so, you then will get a customized plan of action to help you heal and recover function. You'll then have the opportunity to receive your first specific chiropractic adjustment.[/one_half]
Regular Visits
We want to be respectful of your time and so visits take approximately 15-20 minutes.
At each of your appointments, we encourage you to ask any questions you may have. You can always call or email us, too. We want your care to be an efficient and enjoyable experience.
The choice to continue care
Most of our patients are aware that spinal wellness care through regular adjustment is just as important as consistent physical fitness or changing the oil in your car. Once your spine has been corrected and stabilized, we respect your decision to choose what you feel is best for your health and happiness. Contact us today and let's get started!
CONTACT US »

New Patient Center | (936) 449-8110