Meet Dr. Jeremy de los Santos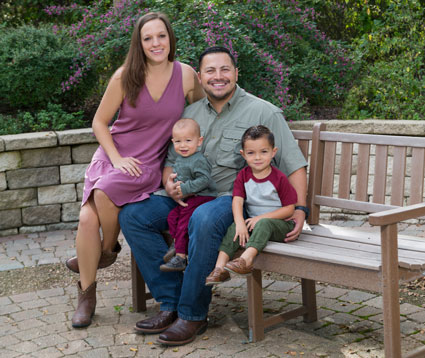 Dr. Jeremy is passionate about providing those in the Montgomery community with cutting-edge treatment at his chiropractic care center. At Simple Life Chiropractic we welcome family members of every age, from newborns, babies and children, to weekend warriors, moms-to-be and active adults. We emphasize a gentle, natural approach to health care, with customized options based on nerve scan technology.
The Desire to Help Others
While still earning a business degree in college, Dr. Jeremy found himself helping to open a local mortgage office. A chiropractor shared the same location and introduced himself. When he discovered that Dr. Jeremy knew nothing about chiropractic, he offered to give him an adjustment.
After that first adjustment, I realized that I could help more people through chiropractic care than any other way.
Reducing the Risk of Families in Crisis
After completing his undergraduate studies, Dr. Jeremy attended Parker College of Chiropractic in Dallas, Texas, earning a Doctor of Chiropractic degree. His driving force in life was to help others by removing the barriers to the true expression of health.
"Medical bankruptcy is rampant in our country today. Many families are crippled by health crises, and we want to help community members reduce the risk of that happening to their family. We know that by putting our focus on what makes up vitality and wellness, and eliminating the root cause of health dysfunction, families can thrive and blossom."
Dr. Jeremy experiences the positive effects of chiropractic care in his practice on an almost daily basis, including
Observing couples who were unable to get pregnant now enjoying their child
Helping kids excel in school, where before they couldn't focus or concentrate
Watching people in pain who could barely work to support their family, now thriving and participating in wellness care
Life Outside the Office
Dr. Jeremy, along with his wife, enjoys playing golf, hiking, church activities and hanging out with friends. He's also a member of the Montgomery Chamber of Commerce, The Rotary Club of Lake Conroe, the Chiropractic Society of Texas the non-profit National Wellness Foundation. Dr. Jeremy is also a member of the Epic Pediatric Program.
We love families and enjoy seeing our practice members living lives of abundant health. Our care is gentle and precise, and we use cutting-edge nerve scan technology to help you feel your best. Contact us today and ask about our new patient special!

Chiropractor Montgomery | (936) 449-8110